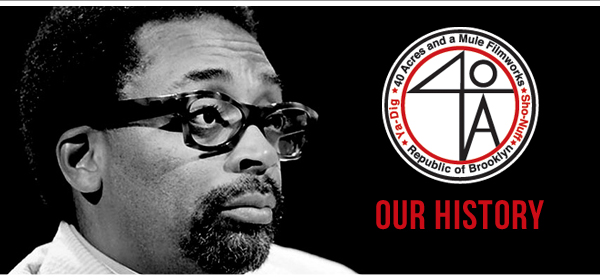 Spike Lee founded 40 Acres and a Mule Filmworks based in his childhood neighborhood, the Fort Greene section of Brooklyn in 1986
After gaining box office success and critical acclaim from producing, writing, acting, and directing his first feature film She's Gotta Have It. Since the inception of 40 Acres, it has developed and produced outstanding feature films such as the box office hit Inside Man, 25th Hour, Academy Award nominated 4 Little Girls, Malcolm X and Do the Right Thing. The company gave a whole generation of young people at the time access to the film industry that they did not have before. 40 Acres helped launch the careers of numerous young African American actors and production staff over the course of its history.
Not only did 40 Acres help people break into the film industry, but it has given back to the community in numerous ways. Basketball courts were re-done for the community to play on. 40 Acres has sponsored local sports teams and leagues during summer tournaments. Food and toy donations were given out to shelters during the holidays and other times of the year. Through its non-profit organization, Project 40, it set up programs that gave African American and underprivileged children opportunities to get professional instruction. Summer basketball camps were held at the high school level, which also offered SAT preparatory classes for the students. Project 40 sent out academic athletic newsletters throughout the year to inform and encourage students about preparation for college and news relating to the National Collegiate Athletic Association (NCAA).
40 Acres expanded its brand into other subdivisions. They first started a T-shirt business, where they sold merchandise from their offices in Fort Greene. The demand became so high that it began to interfere in everyday 40 Acres business. Then Spike's Joint was opened in July 1990 to meet that demand. A second store in Los Angeles, Spike's Joint West, was opened in October 1992 after the success of the first store and the rising popularity of the 40 Acres Malcolm X baseball caps. The stores reached out to the community by holding readings given by celebrities for children and sponsoring high school students for preparatory educational exams. They continue to sell merchandise online via their store.
The 40 Acres Institute was a film program that demystified filmmaking. It was offered to those interested in film and wanted to learn more about the business. The seminars were held on Saturday mornings at the Long Island University campus in Fort Greene. Numerous guests came to speak about the film industry, including Martin Scorsese, John Singleton, Robert De Niro, and the Hughes Brothers.
40 Acres has had an intern boot camp dating back to Do the Right Thing. The 40 Acres Internship Program boot camp offered interns knowledge of the ins and outs of film production. Before entering the boot camp one had to take an exam that tested you on your knowledge of film and filmmaking. After, you went through a week orientation that gave you a background on film production with the help of guest speakers and staff that you would hear or meet. The boot camp served as another way to demystify filmmaking. Once you were an intern you got placed in the department of your preference and received hands on experience in film production that you could apply to future work.
Another subdivision of the company was 40 Acres and a Mule Musicworks. The record label, a division of Columbia Records, was formed in 1991 after the success of the singles "Da Butt" from the School Daze Soundtrack and "Fight the Power" from the Do the Right Thing Soundtrack. Musicworks aimed to "enlarge the legacy of African-American music."
Story development has played a key role at 40 Acres. Since 1992, story development in the New York office has reviewed numerous projects to pursue. Between 1998 and 2004, story development had a presence on the west coast in Los Angeles. A handful of those projects had received a green light for production, including Tales From the Hood, The Best Man, Love N' Basketball, and Good Fences. The company is constantly in development and looking at a number of projects at the same time.